TOP 10 MOST ASKED HOME INSPECTION QUESTIONS
Knowing is half the battle…
OrangeCrest has gathered the top 10 questions asked from our clients about performing a home inspection. These questions are provided below for your information: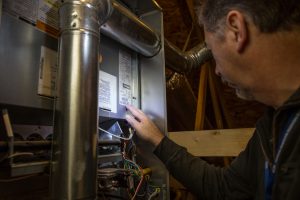 What is the scope of your inspection?
We identify threats to health and safety, non code complying conditions, areas of deferred maintenance and functional obsolescence. We perform a visual and hands-on inspection of the major mechanical and structural components of the home, from rooftop to foundation. The inspection includes:
The property site, building exterior, a complete roof inspection*, the attic, chimney, fireplace, and building interior.
The plumbing, electrical, and heating systems.
The foundation and structural members by entering the crawl space.
The built-in appliances are tested for proper operation, and we include several energy conversation and safety items.
Disclosure of additional construction to the building, and verification that the construction is code complying.
Answers to the "Seismic Disclosure" questions the seller is required to provide to the buyer (applicable if the home was built prior to 1960).
Do you look at everything in the home?
No, most home inspections do not include the following: swimming pools, spas, wells and septic systems, and cosmetic conditions (worn carpeting or torn wallpaper). These items will be listed at the end of your report. Our conditions are reported as handy-man "simple fixes" or unserviceable conditions which we recommend consulting a contractor of the applicable trade.
How long does the inspection take?
The inspection length can vary based on the size, condition, and type of home. A typical home inspection lasts about an hour. Condos typically take about 45 minutes, and larger homes (>3000 sq ft) can take up to 2-3 hours.
When and how will I get my report? And what is it?
We produce a typed, narrative report with color pictures that address approximately 100 components and conditions of the building. This PDF will be emailed the business day following the inspection.
How can I prepare for my home to be inspected?
Remove items and/or debris from areas of inspection. The inspector will not move boxes or furniture, so if there are outlets and other items that need to be inspected, please make sure access is available.
Located access to crawl space and attic, and make sure access doors are functioning.
Sometimes items can be hidden, such as an electrical panel behind clothes in a closet. Please note these items to the inspector.For a detailed list of items you may want to take care of before the inspection, visit http://www.nahi.org/consumers/home-sellers/prepare-your-house-for-an-inspection.
Can I follow along with the inspector during the inspection?
It is in the best interest for the inspector to focus on the inspection, therefore, we provide a free post-inspection consultation. You will have an opportunity to hear from the inspector and ask any questions you may have.
Do I really have to read the entire report?
It's very important that you read the full report, as there are items that may currently be serviceable but the inspector has noted something of importance. We put effort into keeping our reports clear and concise, avoiding redundancy and wordiness.
Do you quote for repairs?
Home inspection companies are not allowed to quote repairs or perform work on the property.
How is a home inspection different than an appraisal or a termite inspection?
Home inspections are looking for health and safety, non code-complying conditions, areas of deferred maintenance and/or functional obsolescence. Appraisals are looking to place a dollar value on the home. Termite inspections are looking for wood destroying organisms, currently or previously, living inside your home.
In the event I have concerns prior to closing, can I contact the inspector?
Yes! Your Orangecrest Property Inspector can be reached by phone during normal business hours.